Customers and market
Bravida is a leading multi-technical service provider in the Nordics. The total market turnover is SEK 250 billion, spread over three areas: construction, renovation and maintenance. The least cyclical areas are renovation and maintenance. Together, they constitute more than two thirds of the market.
Stable market with good growth
The Nordic installation and service market is stable with good growth.
Key drivers for growth are:
Increased requirements for energy efficiency
Buildings account for 40 percent of the energy consumption. Higher demands on energy efficiency is a key driver for growth. Property owners are investing in increasingly advanced installations and construction techniques to reduce their costs.
Increased complexity in installations in buildings
More and more advanced installation and construction techniques increase the complexity of today's installations, while the information society put higher demands on the IT environment, safety, and capacity, than previously.
Renovation of Million Programs
An ageing building stock with more than 500 000 flats built in the 60s and 70s are in need of renovation. Here installations constitute an important part of the renovations.
Investments in infrastructure
Large infrastructure investments with a high density of installations such as railways, roads and electricity supply contribute to a growing market. Other public investments in hospitals, bathhouses and universities also drive the development of the industry.
A broad and diversified customer portfolio
Bravida is commissioned for installation and service projects in all types of infrastructure and buildings, ranging from industrial buildings, infrastructure projects, arenas and hospitals to shopping centres, schools and residential buildings.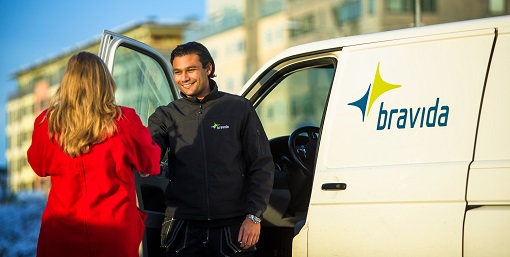 Bravida's customers can be divided into two main groups: end customers and building contractors. The customer base comprises thousands of small and large customers in different industries across the Nordic region. Through a strong offering, proactive sales and closer contacts with customers, Bravida will seek to further strengthen its profile as the customers' supplier of choice.