Installation
No project is too small or too big. We install and upgrade technical systems in all types of properties and facilities.
No assignment is too big or too small
You only need one supplier – we cover all aspects of installation and service
We keep our promises, we follow up, and we constantly improve
Installation with Bravida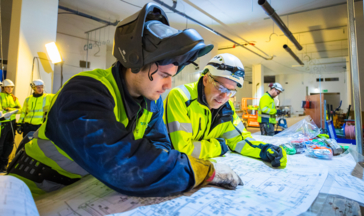 Standard installation work...
Need help with piping, sprinklers or cooling? A new security solution for your office? Refurbishment of old electrical fittings and ventilation solutions? We can propose installations that are cost-effective, reliable and good for the environment. No project is too small or too big. Most of Bravida's installation assignments are straightforward, whether they relate to one particular technical area or an end-to-end solution involving several different types of system. For more information, please contact your local Bravida office.
...and large, complex projects
We are also involved in large, complex installation projects, such as a hospital building new operating theatres or the refurbishment of a road tunnel. We are often involved at an early stage and can provide turnkey management of installation work across our areas of expertise. Bravida can also coordinate the different technical aspects of a project.
Our areas of expertise
Bravida installs and upgrades the systems that bring buildings to life. Our main areas of technology are electrical, heating & plumbing, ventilation, security, sprinklers, cooling and power. We take responsibility for the entire process and can propose solutions that are cost-effective, reliable and good for the environment.
Extending equipment's life
through service
Regular maintenance can reduce day-to-day operating costs and also extend the life of systems and equipment. That's why Bravida offers service agreements for all types of installations in our areas of expertise.