Health and safety
Bravida believes no employee should suffer ill-health as a result of work. We want it to be enjoyable and safe to work at Bravida. That's why we have systematic health and safety measures in place.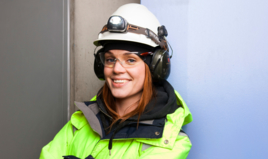 Health and safety in our industry is an issue we take extremely seriously. We have a range of resources, systems and tools to promote preventive health and safety measures to manage these challenges.
Bravida's objective is to eliminate occupational injuries: no employee should suffer physical or mental illness because of work. Everyone at Bravida has a joint responsibility to contribute to a pleasant and safe work environment at all of Bravida's workplaces. To achieve this, we need:
Skills: We value health and safety skills, and we train our managers and employees in these.
Balance: We want our employees to have a good work-life balance.
Participation: We encourage participation in planning and feedback at work. Employees also participate in health and safety work via our app for reporting risks and suggesting improvements.
Safety representatives and fitness promoters: Employees who are particularly passionate about health and safety can also become a safety representative or fitness promoter.
Find out more: Health and safety at Bravida – Bravida's health and safety policy, certificates, etc.
Open positions
At Bravida, we are professionals who do the job properly. Want to become part of our team? Apply today!