Energy optimisation – a win-win for you and the environment
Bravida often encounters installations that use more energy than is necessary. An energy optimisation allows you to take simple steps to save significant amounts of energy.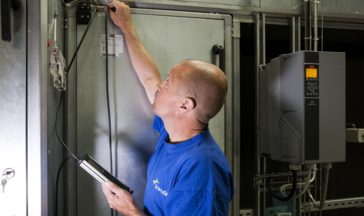 Bravida works with the systems that give properties life: electricity, lighting, heating, cooling, water and ventilation. We often find equipment that has been wrongly installed, needs cleaning or is just too old, and consequently uses more energy than necessary. By carrying out an energy optimisation, simple steps can be taken to make your property more energy-efficient and extend the life of equipment and systems.
Status & energy diagnostics
As an initial step, Bravida carries out status and energy diagnostics on the all of the property's technical installations. We assess light fittings, heating equipment, ventilation and cooling systems, and more.
We then produce a diagnostics report that lists the status of technical installations; the expected life, the condition and potential energy savings. This diagnostic report can then be used as the basis for a maintenance and energy plan in which we set out the measures we believe need to be taken immediately, in a year or in five years.
Energy optimisation
Once the customer has reviewed the recommendations of the diagnostics, Bravida then helps carry out the necessary work. Straightforward adjustments can usually be made immediately, such as temperature regulation, adjustment of operating times and pump shut-off. Other measures require a little more investment. This may involve replacing an old ventilation or heating system, carrying out extensive cleaning of equipment or installing a control and monitoring system.
Long-term energy plan
Many customers then opt to implement an energy and maintenance plan together with Bravida. This is a long-term plan for the essential replacement of installations and other energy-saving measures.
An important aspect of the plan is regular inspection, preventive maintenance and early intervention. An operating agreement or service agreement with Bravida allows major energy efficiencies to be made over time.
Our energy offering includes:
Status & energy diagnostics
Energy optimisation
Mandatory ventilation check
Energy performance report
Ongoing energy statistics and monitoring
Energy audit for large companies
Operations contracting