Customers and market
Bravida is Nordic region's leading provider of end-to-end solutions for service and installation of electrical, heating and plumbing, HVAC and other technical functions in buildings, with a market share of nine percent. The total market turnover is valued at just under SEK 300 billion, spread over three areas: construction, renovation and maintenance.
Trends in the Bravida market
---
Increasing sustainability requirements for buildings
Increasing sustainability requirements and higher energy prices mean that energy-efficient property technology is becoming increasingly important. Demand for energy-efficient solutions and reduced climate emissions is increasing in both new construction and renovation. This creates great opportunities for the service and installation industries.
Higher sustainability requirements on properties from authorities and EU taxonomy are affecting property owners, leading to the need for renovation and upgrading properties. Many banks often offer lower interest rates for 'green' properties and tenants also demand sustainable solutions, leading to an increase in 'green leases'.
To reduce carbon emissions, more and more people are installing renewable energy solutions such as solar panels, geothermal heating and electric vehicle charging infrastructure. There is also a desire for improved energy performance through energy-efficient installations and regular technical service.
Increased demand for end-to-end solutions
Many property companies see the benefits of having a single partner for their property portfolio or construction project. This makes it possible to create energy-efficient solutions that work for a long time. More customers are looking for a single partner who can offer advice, planning, coordination and subsequent service in all areas of technology.
To meet this demand, many major market participants offer comprehensive solutions such as building automation, technical facility management and energy optimisation. This creates 'smart' and energy-efficient properties that can be controlled digitally, giving both property owners and tenants better control over their electricity, heating and water use.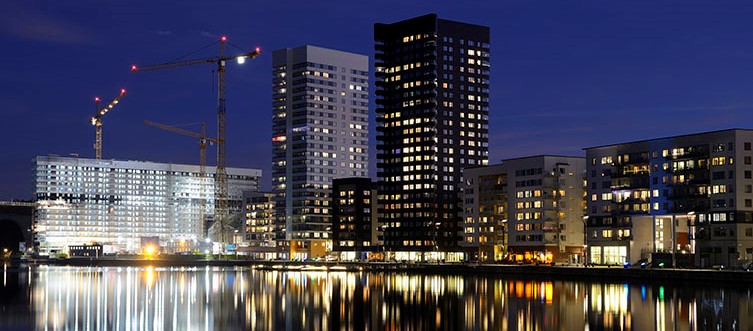 Technology developments and digitalisation are expanding possibilities for managing properties
As technology develops rapidly, Bravida is seeing greater demand for
consulting, installation and service within advanced technical solutions.
The production process
Digitalisation improves installation projects and collaboration between customers, end clients and suppliers. Tools such as 5D modelling enable real-time monitoring and provide a detailed overview throughout the production process.
Automatic control in properties
Automation and the Internet of Things (IoT) mean that technical functions in buildings can increasingly be controlled automatically. For example, lighting, heating and ventilation can be controlled in detail using sensor-based technology. This allows service companies to monitor the functioning of a property and remotely optimise the energy efficiency of installations.