Solar cells - A climate smart investment
With solar cells you produce your own electricity and lower your costs. The electricity, which comes from solar energy, is also an environmentally friendly alternative, to non-renewable energy sources.
At Bravida, we offer a complete solar cell solution, always with the highest quality and safe guarantees. We tailor each installation to our customers' specific requirements and conditions.
The solar panels we supply come from the market's leading and most well-established manufacturers - with industry-leading power guarantees and our own installation guarantee for five years.
How do solar cells works?
Solar cells use sunlight to produce electricity. An inverter converts (DC) energy to usable alternating current (AC) energy. Electricity flows through your home, powering electronic devices. If you produce more electricity than you use, you can either sell or store your electricity and pick up more when you need to.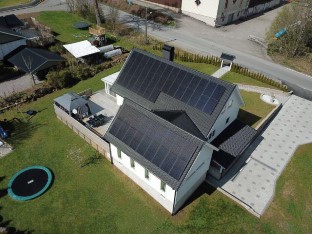 We offer solar cell solutions for:
House and holiday home.
Farm and agriculture.
Real estate and apartment buildings.
Feel free to contact us if you have any questions regarding installation of solar panels. You can also book a free consultation where we make a home visit and together we go through the conditions for your particular property. We then develop a solar cell solution that corresponds to your requests and our planning.