Datacenter and critical solutions
The need for secure power supply exists in many areas regardless of customer segments and solutions. Data centre, industry, hospitals, real estate, banks, energy companies, airports, defense and to the parts of society where it is most needed.
At Bravida, we make sure that our customers' critical operating environments is running 24/7. With broad expertise, extensive experience and a organization throughout Sweden, we can assist in everything from design to installation and ongoing servicing. Often, the solution is unique to the individual customer and we work with products from market leading suppliers who are all specialized in their field.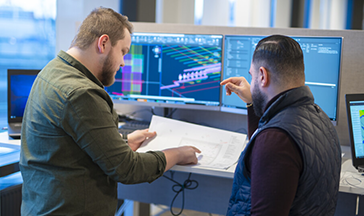 Total solutions
Bravida offers total solutions for both large and small projects with installation and servicing. Our expertise includes backup power, UPS, network and DCIM, electricity, ventilation, critical cooling, fire alarms, access control, security solutions for alarms, locks, sprinkler gas extinguishers. In our projects we a have high environmental thinking and are specialists in energy optimization. We take overall responsibility for the project and have overall responsibility, regardless of where your business is located. Our on-call and service is via remote-connected system monitoring and on-site.
To secure your critical operating environment, we provide:
Needs analysis
Design and construction
Project management
Programming
Commissioning
Installation
On-call service
Service agreement
Energy optimization
Cooling
Security system
Fire alarm
Access control
Are your plans to redesign, rebuild, upgrade and modernize your critical infrastructure? Or do you want to be on the safe side with the help of ongoing servicing and on-call? Don't hesitate to contact our department for uninterruptible power supply – Critical Power.
Phone: 08-121 805 60
E-mail: critical.power@bravida.se