Construction site
Our construction site is located at the E4 The Stockhom Bypass tunnel entrance in Akalla.
Hanstavägen/Akallaleden, 164 74 Stockholm, Map pin
Phone: +46 761441727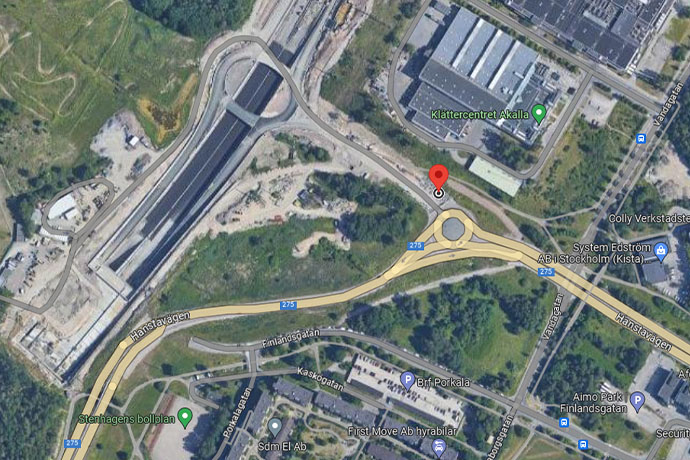 Bilder ©2023 CNES / Airbus, Lantmäteriet/Metria, Maxar Technologies, Kartdata ©2023
Access to the workplace
Staff
Prior to your first day at our construction site (no later than 5 days in advance), you need to get registered via Infobric Field/inductions registration to be able to use the project platform/app Infobric Field. The Ease Checkin app is required to check in/out of the work site.
No later than 2 days before entering site, you must have completed three e-learning courses: Trafikverket and Bravida's workplace introductions (you will receive these by email), and the course Safe Construction Training (linked below).
Valid ID06 and valid identification must be brought along. Class 3 high-visibility clothing must be worn on the upper and lower body, as well as a helmet and safety shoes. A headlamp must be used when working in the tunnel.
Deliveries
Delivery personell do not need to be registered as long as a Bravida representative monitors the entire delivery/pick-up process.
Visitors
The Swedish Transport Administration must be notified 5 days prior to visitors' access to site. Helmets, safety shoes and class 3 high-visibility vests must be worn by all visitors.
Links
Infobric Field/inductions Registration
Welcome to us, Per Andersson and staff!