Ventilation – wellbeing through good air quality
We spend 90 percent of our time indoors. But we usually only discuss the quality of the outdoor air we breathe. Fresh air indoors is inexpensive and quickly pays off. Good air quality supports wellbeing. We perform better, we're more efficient and feel better.
Installation of ventilation systems
Bravida installs all types of ventilation solutions, for example: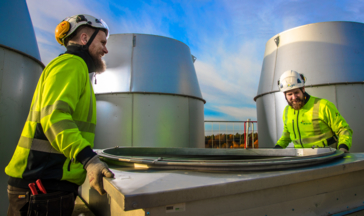 Air treatment
Process ventilation
Control and monitoring
Calibration and mandatory ventilation check
We have also developed custom ventilation solutions for sheltered housing, hospitals, sports centres and shopping malls, as well as high-tech industries.
Ventilation service
Ventilation systems need to be cleaned as they use more energy if not serviced and checked regularly. Bravida takes care of ventilation systems in all types of properties and facilities. We can often take basic steps to improve ventilation systems and save energy. And we also keep track of all your installations and what maintenance is required.
Our ventilation offering includes:
Checking of intake grilles, the condition of filters and filter replacement
Monitoring of belt drives, axels and bearings
Cleaning of ventilation systems
Checking and replacement of belts
Inspection of control and regulation/monitoring functions and fire dampers in ventilation systems
Checking of temperature and heating coil valves
Contact
How can we help you? Call your local Bravida office to find out. No assignment is too small or too large.