Our strategies and business model
Strategies
How we generate profitable growth
Bravida's objective is to be the largest or second-largest player in all the locations where we choose to operate. We aim to grow both organically and via acquisitions in our various key geographical markets. To ensure long-term stable growth, we are increasing our focus on service and proactive sales.
How we create financial stability
Maintaining good financial stability is essential to Bravida. Margin always takes precedence over volume in our operations, cost-effectiveness is a cornerstone of our business and we continually endeavour to maintain stable cash flow. 
How we create a sustainable company
Bravida aims to operate a responsible business and manage its own and others' resources efficiently. We take focused measures to achieve clear results in our sustainability work.
Our business model
How we organise our business
Combining installation and service
By combining installation and service, Bravida is able to operate throughout the lifecycle of a property. This ensures a long-term solution for the customer. The combination of installation and service operations creates more stable business for Bravida over time.
Breath, depth and coordination
Bravida's breadth and depth give customers access to a comprehensive installation and service offering in electrical, heating & plumbing, HVAC and specialist areas.
Size and proximity
With a local presence in about 140 locations in the Nordics, Bravida is always close to its customers. Our size and expertise also give us the capacity to perform large and complex projects without geographical limitations.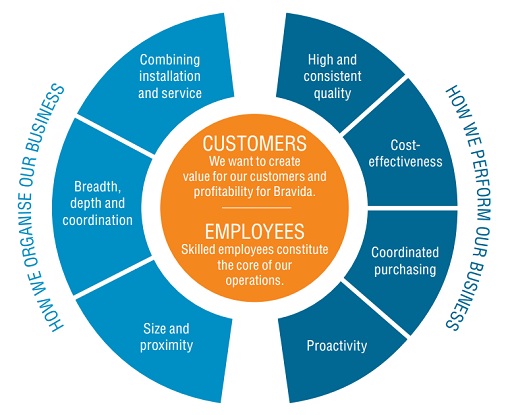 How we perform our business
High and consistent quality
By applying uniform working processes and project methodology, Bravida can ensure high and consistent quality in all its deliveries.
Cost-effectiveness
Strong cost-awareness throughout the delivery process gives us competitive strength.
Proactivity
Through proactivity we create long-term solutions for customers and the environment. We work preventively by performing regular service and taking action at an early stage.
Coordinated purchasing
A strong purchasing organisation provides a competitive range of materials, components and services from subcontractors, through common systems and coordinated purchases.