Sustainable installation on the factory floor to ensure reliable processes
When the kitchen manufacturer Nobia built a large new factory in the Jönköping district, reliable process automation was an important requirement. Bravida was commissioned to ensure optimal accessibility and provide a back-up solution in the form of two mirrored server rooms for fail-safe operation.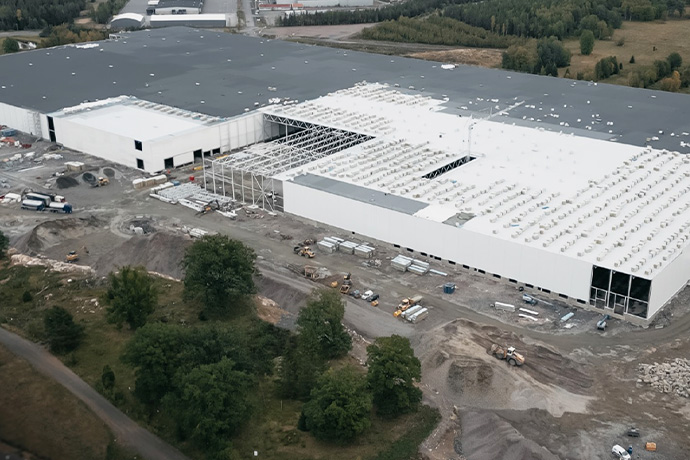 The new factory, where Nobia manufactures kitchen decor, is located in the Torsvik industrial area and covers 125,000 square metres. A major part of the business consists of automated processes that impose strict requirements on the technical installations. If any of these processes run into problems, it can have a costly impact on the entire manufacturing chain. To help with this, Bravida designed server rooms, also known as data halls, whose design and redundancy ensure high availability and process continuation, even in the event of a power outage or other type of force majeure.
Focus on cost-effective operations
In addition to verifying that the permanent installation of electric, water and ventilation ducts has been done properly, Bravida has ensured that the entire technical installation was designed according to the customer's requirements, with a focus on cost-effective operations.
An example is the energy-efficient air conditioning solution, where the data hall is fed by the property's other air conditioning units. Elon Lövgren, Key Account Manager at Bravida in the Critical Power speciality area, has commercial responsibility for the project, which includes the design and installation of two server rooms. The first one is now complete and in operation.
– In 2023, the next stage will be built – server room number two. This is where we talk about redundancy: this is so mission-critical that a back-up is necessary. If they lose connectivity or there's a fault or a breakdown, the other one needs to serve as a back-up. That's why you typically build mirrored halls.
Bravida also signed a service agreement with Nobia to ensure the operation of both server rooms for the next five years. This will create attractive employment opportunities for Bravida's workforce in the area.
Strict sustainability requirements
The installation has been designed in accordance with the so-called BREEAM certification, an environmental certification system that imposes firm requirements on construction work and installation.
– There are strict requirements when it comes to transport management and the sustainability of construction work, sourcing and raw materials, which I find very positive. Here, we've come up with a solution for the customer that truly streamlines operations and is cost-effective, says Mr Lövgren.
To bring the project to fruition, around twenty employees have contributed their expertise – some from the Critical Power department and some from Bravida's local office. This is part of what Bravida delivers in added value to the customer – more sustainable installation thanks to the lower fuel costs and shorter travel distances.
– Bravida's local presence ensures more environmentally efficient installations. It's also part of the reason why Bravida started Critical Power – uninterrupted operations. Today, this has become increasingly more important in our society and is being requested more often. There are currently several competitors that travel fairly long distances. This is where Bravida wants to have a local presence in order to be more environmentally astute vis-à-vis the customer.
The advantage of a local presence
Another example of Bravida's added value is how the office in the neighbouring town of Värnamo stepped up to bat when the Jönköping office was overwhelmed with work.
– The Electric department in Jönköping was swamped and couldn't put together the tender," explains Mr Lövgren. It's awesome to see the local staff, the Värnamo office, volunteer and be able to work out the construction agreement for us. Our local presence is totally tubular. Otherwise, we wouldn't have been able to deliver a tender.
Mr Lövgren concludes by elaborating on the positive and educational process, both with respect to the customer and the employees involved.
– It's been rewarding. We've done similar projects, for example, Coop's new central warehouse in Eskilstuna, which taught us a lot of lessons. We now have a solid concept for these types of installations. Without our Project Manager, Fredrik Nordahl, who kept the delivery on track, it wouldn't have happened. Another success factor has been teamwork, both internally and with the customer. We've worked toward the same goals, and that's been important for this project.
FACTS / New factory
What: Factory building with strict requirements for automation and redundancy.
Where: Torsvik outside of Jönköping, Sweden
Bravida's assignment: Installation of Critical Power, electric, air conditioning, ventilation and heat, water and sanitation.
Client: Nobia Produktion AB
Schedule: The first stage was completed in 2022. Stage two will be completed in 2023.
Number of employees: Around twenty.