Schneider Electric chose Bravida for its technical expertise
When Schneider was vetting service providers for their offices in the Nordic countries, Bravida was the obvious choice. Thanks to its broad geographical coverage and expertise in technical property management, Bravida made the perfect partner.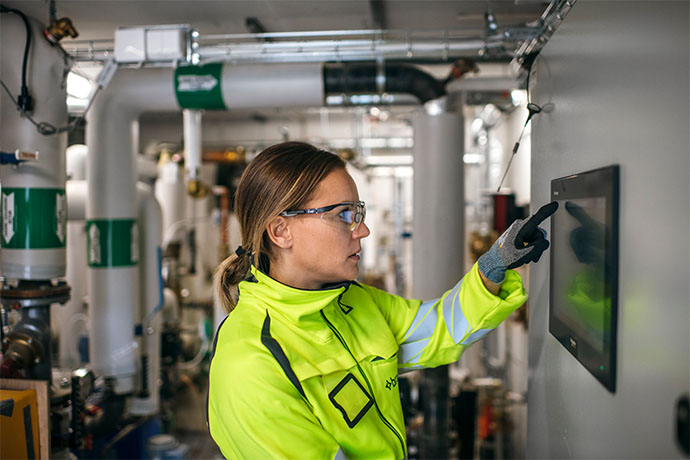 Bravida recently signed a Nordic service contract with Schneider Electric, where the service provider will be wholly responsible for the technical Facility Management at 17 properties. The service contract includes preventive and diagnostic maintenance along with emergency response services for the properties' technical systems.
– It involves everything from fire alarms to ventilation fixtures to switchboards and defibrillators – in other words everything to do with a building, with gutters, roof leakage and the like," explains Pontus Monthan, who's in charge of Bravida's technical Facility Management in Sweden and the Nordic countries.
Bravida – a "one-stop shop"
Schneider Electric, which currently has a total of around 70 offices throughout the Nordic region, recently announced a tender for technical property management services in its largest offices. The contract includes service deliveries to nine facilities in Sweden, five in Denmark, two in Finland and one in Norway. First on the agenda for Bravida was Sweden, where delivery of the contracted services was to start in April 2022. Denmark, Norway and Finland are then expected to commence in Q2 2023.
The collaboration is partly based on Bravida's special focus on these types of services and partly based on the fact that we can offer a 'one-stop shop' solution specifically for technical Facility Management.
– We can offer nearly 90 per cent of the services Schneider Electric requested internally, using our own personnel, explains Mr Monthan. No other company came close to that, which means that the client ends up paying less by using us.
Broad geographical presence
Bravida's geographical coverage, with a physical presence in nearly all the places where Schneider's offices are located, was a critical factor in the tender. This keeps travel costs down whilst a service provider with a local presence is helpful from a cost-related and environmental perspective.
Bravida's practical property expertise perfectly compliments the capabilities of customers like Schneider Electric, who operate logistical centres, factories and offices. Schneider's own area of expertise is in the back-end systems that maintain the properties.
– They're a system vendor, and we operate systems that they sell, informs Mr Monthan. And they don't necessarily have detailed knowledge about how you maintain a building, from a purely practical standpoint but operate more on the system side. So, once again, it's a win-win situation for both us and them.
Closer collaboration going forward
The contract runs for three years with an annual option for extension. Bravida naturally depends on the efforts of its talented employees in order to maintain a high level of service.
– For the project, we have a total of 35–40 people who are involved in one way or another, explains Mr Monthan. We keep tabs on it through a 'single point of contact' with the customer. In other words, the customer gets one contact person to talk to, which is, of course, an advantage for them.
Mr Monthan informs that the partnership with Schneider Electric has strengthened in other areas and that the companies, among other things, are working more closely together on automation services.
– The contract is extensive and can even include energy optimisation at properties, he adds. We're looking into the partnership when it comes to Bravida Charge, solar panels, energy storage and other energy-saving solutions. It's definitely an interesting client in the right segment.
Focusing on the client's needs
Bravida's past experience in working with multinational corporations has been advantageous in helping it to "seal the deal" – not only for interpreting international regulations and contracts, but also for understanding potential trade-offs and listening and adapting to the customer's needs.
– It's a serious industrial business partner that wants to work with us and who we want to work with, summarises Mr Monthan. It offers sizeable opportunities to develop this partnership together. We have very high hopes that the contract will be 'top of the line' for technical Facility Management in the Nordic market.
FACT / Service contract with Schneider Electric
What: Service contract in Facility Management
Where: 17 facilities in Sweden, Finland, Denmark and Norway.
Schedule: Starting in April 2022, with a contractual term of three years.
Bravida's assignment: Preventive and diagnostic maintenance for Facility Management along with emergency response services for the properties' technical systems.
Client: Schneider Electric
Number of employees: Around 40 employees working on the project.