Friends Arena
Just north of Stockholm, in Solna, is Scandinavia's largest multifunctional arena. The arena was officially opened in 2012 and is Sweden's stadium for the men's national football team. Bravida was awarded the turnkey contract for electrical installations for the construction of the arena.
Thanks to good references and the high quality of its work in similar projects, Bravida won the contract to install electrical systems in the Friends Arena, which involved fitting of lots of new, advanced technology. The assignment comprised the installation of all power and lighting, many kilometres of ducting and the installation of over 9,000 electrical fittings. Around 25 Bravida employees were working at the arena during the project.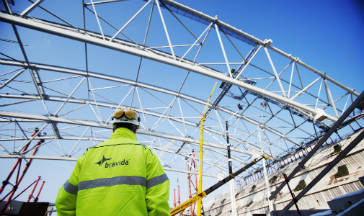 The project's biggest challenge was that a lot of work had to be carried out at height. The roof is 33 metres high and can be closed fully during the winter and in the event of bad weather.
With a capacity of up to 75,000, the arena can be used for a variety of events, including sporting events and various kinds of concerts.
Contact us
How can we help you? Call your local Bravida office to find out. No assignment is too small or too large.