Gardermoen increases access to Scandinavia
The new North Pier boosts capacity at Oslo's Gardermoen airport, enabling more travellers to visit Scandinavia every year. Bravida Norway won the contract to carry out all electrical work and data and fibre-optic cable laying during the new facility's construction.
Five Norwegian and Swedish departments of Bravida carried out the work together. The project at Gardermoen began in 2014 with the installation of cables and lighting in technical rooms. The installations were completed in summer 2016.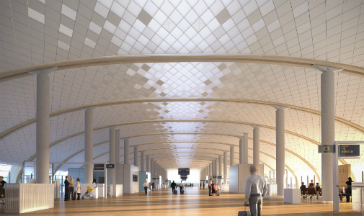 "The new North Pier at Gardermoen is helping create a large and efficient Scandinavian hub. Our expertise in technical electrotechnical solutions meant we were able to provide all installations of telecom and data networks. The work was undertaken while daily airport traffic continued at the airport, which placed additional security and safety requirements on us," says Tore S. Regional Manager of Bravida Oslo.
The new North Pier terminal provides room for 17 new gates, helping to streamline all boarding and alighting.
When the new terminal officially opens in 2017, it will be 63,000 square metres in size and increase the airport's passenger capacity to serve 28 million passengers a year.
The developer is Avinor, Norway's largest owner of airports.
Contact us
How can we help you? Call your local Bravida office to find out. No assignment is too small or too large.