Sustainable service at the historic Britannia Hotel
Providing comprehensive property services to one of the Nordic countries' most luxurious hotels is extremely demanding. The Bravida employees who service the historic Britannia Hotel in Trondheim, Norway, for example, wear special attire on the job.

– And, of course, it needs to be clean and tidy. No frayed, loose ends, says Fredrik Skogrand, Department Manager for Bravida's Central Region of Norway.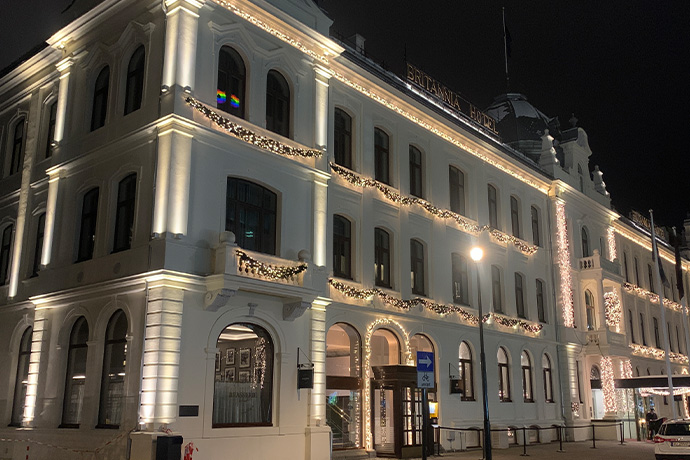 There are hotels... and then there are hotels – where luxury isn't ostentatious but the walls attest to a proud history of exclusivity... and where the rich and famous have stayed as long as anyone can remember.
Britannia Hotel in Trondheim is one such hotel. The on-site restaurant has a gold Michelin star. International stars come here when they visit Trondheim.
Bravida has been providing property services to Britannia Hotel for two years now.
– There are certain special requirements when you provide full service to a world-class luxury hotel, explains Mr Skogrand, the Department Manager for the Central Region of Norway.
– At times, there are quite a few celebrities staying there, and we need to respect their integrity. We need to be as inconspicuous as possible in all the common areas. We must wear the same attire when we're in their premises: black slacks and black shirts or T-shirts.
And, of course, it needs to be clean and tidy. No frayed, loose ends, he admonishes.
First, an installation contract
After Bravida participated in the renovation of the Britannia Hotel and provided heat, water and sanitation services for a year, the company was awarded a service contract. The contract was later awarded to a competitor, but after just one year, a new tender was announced. After winning the tender, Bravida then assumed responsibility for almost everything: electric, ventilation, IT and heat, water and sanitation. This made things much easier: one supplier instead of many, quicker communication and order and clarity.
– But I really think that the GreenHub part was the deciding factor. It's also a good investment for the hotel in the sense that they can brand it as a sustainable alternative. They climb higher in the various "green ratings", which is valued by their guests. That we offer a sustainable service alternative compliments their other initiatives with these types of values, such as recycling and the like," explains Mr Skogrand.
Easy to be fossil-free
Being fossil-free and sustainable in all phases is par for the course for Bravida GreenHub. And in Trondheim, it's easy to be fossil-free: Bravida's office is right next door to the Britannia.
– It's just not possible to enjoy a more fossil-free commute. We don't even need to ride a bike there!
Moreover, Britannia Hotel's choice of Bravida as a full-service partner attests to the staff's professionalism and competence. An exclusive hotel such as the Britannia ardently demands that everything must work...all the time. The Wi-Fi must work, the lights must turn on, and the ventilation must be in tip-top shape. This means that every employee must have the right skills and training, which is also a way to attract future customers, claims Mr Skogrand.
In Trondheim, Bravida devotes a lot of resources to skill development in order to ensure that customers' needs are accommodated.
– International customers like the Britannia Hotel put more weight on skill than price. If you spend money and time on employee development, you'll attract exciting customers.
FACTS / Britannia Hotel
What: Service contract with Bravida GreenHub.
Where: Britannia Hotel in Trondheim, Norway.
Bravida's assignment: Electric, ventilation, IT and heat, water and sanitation services.
Client: Brittania Hotel
Schedule: The contract with GreenHub is in effect until further notice.
Number of employees: Twenty-eight employees are actively working with the Britannia Hotel.