Facebook's data centre in Luleå
Luleå is home to one of the most high-tech and energy-efficient data centres in the world. Facebook has chosen to base some of its server rooms here because of the cold climate.
With almost 2 billion users uploading images and installing apps every day, Facebook has huge data storage needs. Managing those huge needs required a new data centre. Two key factors led to the decision to base the data centre in Luleå.
The ability to take advantage of the cold climate in northern Sweden (the average temperature in Luleå is 1.3˚C)
The ability to use the highly developed infrastructure.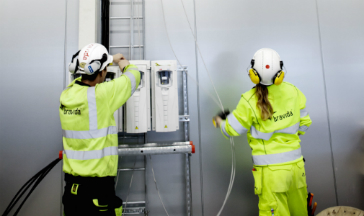 Facebook had developed its own installations solution and needed a supplier that could implement the complex task of adapting this solution and planning and providing installations for the server rooms. The contract was awarded to Bravida, NCC and two US construction firms. Bravida had overall responsibility for the installation work, which also included project design, planning and installation of all electricity, heating and plumbing, and ventilation, as well as sprinkler and fire alarm systems.
The assignment is Bravida's largest single project so far and has involved around 200 fitters and project managers. As well as the technical challenges, the size of the project and its tight schedule have been demanding both in terms of organisation and execution. Using effective coordination procedures and working closely with both the client and suppliers, Bravida developed solutions for everything from logistics challenges to early-stage full-scale testing, which helped in the project.
The facility is Facebook's first data centre outside the US and the largest of its kind in Europe.
Construction started in October 2011 and the centre was completed in 2013.
Contact us
How can we help you? Call your local Bravida office to find out. No assignment is too small or too large.