We are carrying out installation work at a new logistics centre in Bålsta
When the Axfood Group decided to build one of Europe's most modern warehouses for both stores and online sales, Bravida was commissioned by NREP Logicenters and Dagab to carry out planning and installation of all electrical, telecom and process cooling systems.
The new warehouse is one of Axfood's largest ever investments and will have an area of around 100,000 square metres in size.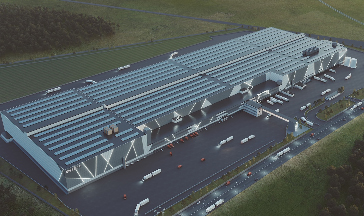 "We have great trust in Bravida and look forward to a close collaboration throughout the project. The project is complex with several temperature zones, and installations at a height of 30 meters. With Bravida's knowledge and experience, we feel confident that we will be able to handle this challenge", says Erlendur Hilmarsson, Project Manager at NREP Logicenters.
The assignment will be carried out in a collaboration between Bravida VS in Västberga, Bravida El in Stockholm and Bravida Sweden, which requires good project planning and good process work. Lars Täuber, Division manager for the Stockholm division in Bravida comments:
"It is an important project for Bravida's Stockholm Division and we are happy to have received the trust. I am confident and convinced that with our strong organization and long experience, we will deliver a good and high quality product".
The project is included in the order backlog for the second and third quarter and is due to be completed by the end of 2023. Bravida's assignment is expected to be concluded by 2022.
Contact us
How can we help you? Call your local Bravida office to find out. No assignment is too small or too large.