Good air quality for Stockholm City Line
Stockholm's largest infrastructure project, Stockholm City Line, will be completed in 2017. It started in January 2009 and work on installations for the tunnel's ventilation systems began four years later.
The project's tunnel has been excavated some 30–50 metres under central Stockholm, and Bravida is providing all ventilation system installations. The tunnel is six kilometres long and is intended to ease the Swedish capital's previously limited rail capacity.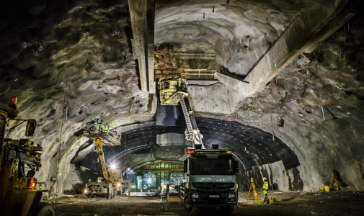 The tunnel, which is due to open in July 2017, will take Stockholm commuter rail traffic through the city, making the journey both faster and more efficient for passengers. The Stockholm City Line will result in the movement of not only huge numbers of people, but also huge volumes of air. The air quality requirements are stringent, and are significantly higher than those for the city's metro system. This required Bravida to break new ground in this ventilation project.
"The complex environment and stringent air quality requirements make this a very particular project. But our experience of working on Stockholm's Norra Länken project puts us in good stead," says Project Director Christer Tronje.
In addition to permanent ventilation for the entire Stockholm City Line tunnel system, the work has also included regular and fume ventilation during the construction.
Image: The Swedish Transport Administration
Contact
How can we help you? Call your local Bravida office to find out. No assignment is too small or too large.