Servicing at Sunderby Hospital
Bravida has managed the technical operation of Sunderby Hospital in Luleå, Northern Sweden for the past 12 years. It's a collaboration that has always been based on a good relationship and responding to customer needs.
Sunderby Hospital in Luleå was the most modern in Europe when it opened in 1999, and it's still one of Sweden's most high-tech buildings. So it's not surprising that the technical management of the building places stringent requirements on both the client and the supplier. Bravida TSM has been involved from the start and consequently has a detailed understanding of the building's technical operation.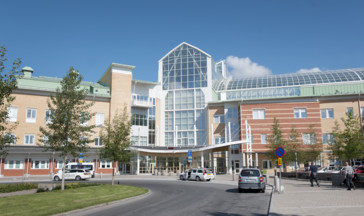 "We manage water, electricity, gas, cooling and ventilation, in addition to the bathing and water treatment facilities. We're actually in charge of all operational equipment, although of course there is technical equipment that we don't look after," says Ove Röshagen, Bravida's on-site operating manager.
Dan Sundén, the buyer from Landstingsfastigheter in Luleå, believes the cooperation with Bravida works well.
"The on-site staff are very much focussed on operational issues. I have confidence that things get done and that they take responsibility for their work. Understanding the role is important, as they're working for Bravida but representing Norrbotten County Council. That side of things also works really well."
Bravida's operating manager Ove agrees that the arrangement works smoothly.
"We have a very good relationship with the county council and we've always cooperated well. If something occurs we firstly need to solve the problem. Patient safety is always paramount. Ultimately, we're here for the patients."
Contact
How can we help you? Call your local Bravida office to find out. No assignment is too small or too large.